So, most of you know I live in Toronto…. So, I'd be totally remiss if I didn't say at least a LITTLE something about the celebs HANGING IN MY NECK OF THE WOODS! Like, I practically DROVE RIGHT BY Casa Loma when SHE was there YESTERDAY….
Ahhh, Laura Linney! LOVE LOVE LOVE LOVE LOVE LOVE LOVE! I, like, LOVE her…. And, look how pretty she looks. Pearls are LOVERLY!
And, yesterday, at the Magna Golf club….
Alicia Keys looking STUNNERS in chrome (that's chrome, right?)…. Check out that 'do…!
So REGAL! Like Cleopatra!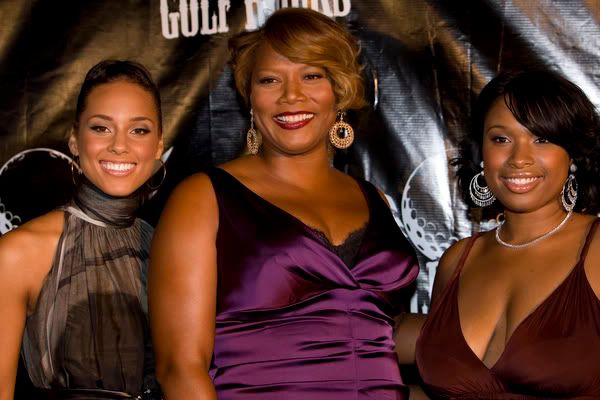 …Alicia Keys with Queen Latifah and Jennifer Hudson. They're hosting an all-day golf event, "Golf Rocks," to raise money for Malaria No More. Beautiful…. The three of them are starring in Secret Life of Bees (I have yet to read the book…!). Don't they look positively glam? And, gorj….
Here's the entrance to the event….
FANCAY! Go, Toronto! See, we know how to HOST!
Who else, who else…. Let's see….
At the Chum / City TV Building, downtown, we have the Blindness after party…, which means, a certain DANNY GLOVER was here, in MY neck of the woods, looking positively SMILEY!
…and JULIANNE MOORE…, beautiful as ever….
…Sandra Oh!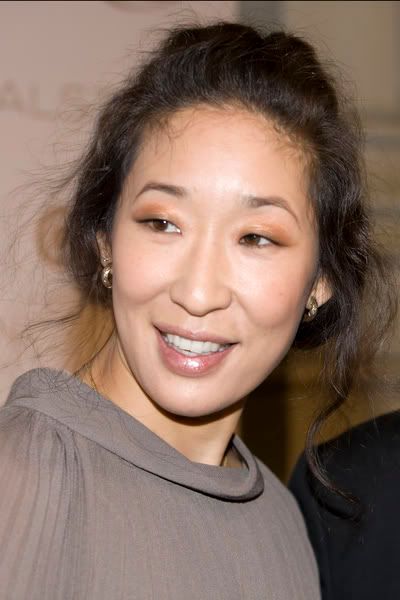 …Marc Ruffalo….
And, the list goes on…. BRAD PITT. BRAD PITT IS HERE! I saw a pic of him on the cover of one of our big newspapers. Must find that…. Here's a pic of him at the Venice Festival a couple weeks ago — just to tide you over….

Photograph by Solarpix / PR Photos.
See, it's times like this (and ONLY times like this, heh) that I wish I were Angelina Jolie. For, OH! To ruffle hands through that glorious hair, and OH! to kiss those luscious…ahem. Cold shower time. Latah loves!
~Photographs by Robin Wong / PR Photos.~